The New Year starts with Strauss Concerts in the Finnish National Opera
The festive tradition of the Strauss Concerts in Helsinki on January 6th in the Finnish National Opera makes a joyful start to the New Year.
The charismatic and charming Atso Almila conducts the acclaimed Lohja City Orchestra enlarged with young musicians from the Sibelius Academy bring joy and the first feelings of spring.
Inka Hulkko will be dancing to the choreography of Ville Valkonen.
---
Atso Almila
Atso Almila was the professor of the orchestra- and conducting education at the Sibelius Academy during 2013-2019. In addition to being an internationally respected conductor, he is also a composer, columnist and opinion leader. Almila has composed not only seven operas but also five symphonies and a lot of other music.
Hedvig Paulig
Hedvig Paulig, soprano, got her master´s degree in music from the Sibelius Academy in 2008, and has completed a diploma in lied song from the Royal Academy of Music in London in 2004. In October 2011 she won the international Sibelius-singing competition.
Jussi Myllys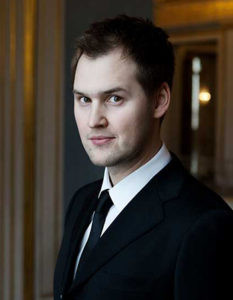 Jussi Myllys, tenor continued his studies in Berlin after graduating at the Sibelius Academy. His first soloist engagement was at the Frankfurt Opera and after that his extensive and diverse international career has taken him to perform in almost every important opera house in Germany as well as in Geneva, Paris and Naples, Italy. He has performed both in oratorios and in concerts at the Edinburgh Festivals, in Madrid, Tokyo, Prague, and in the Saint Peters Cathedral in the Vatican. He has performed under the baton of many famous conductors from Atso Almila and Esa-Pekka Salonen to Zubin Mehta.
Kristian Lindroos

Kristian Lindroos, bass-baritone, is a third-generation opera singer. He is famous from his opera and lied-song performances. He got his master´s degree in music from the Sibelius Academy. He has also studied with Sherman Lowe in Venice and also at the Accademia del bel canto in Italy. He won the Lappeenranta singing competition in 2016 and the Merikanto singing competition in 2022. He has performed in concerts and operas in Finland, Italy and other countries in Europe.
Mia Heikkinen
Mia Heikkinen got her master´s degree from the Sibelius Academy with opera singing. During the fall of 2021 Heikkinen started her doctoral thesis at the Sibelius Academy at the DocMus-department in singing improvisation and comedy on the opera scene. She won the Kangasniemi singing competition 2007.
---
STAY AT CLARION HOTEL HELSINKI TO STRAUSS PRICE
In cooperation with the Strauss Concerts, Clarion Hotel Helsinki offers accommodation at the price of 110 € room, including breakfast, sauna and pool. The offer is valid during 5-8.1.2023.
Reservations with the code STRAUSS by telephone: +358 10 850 3820 or by e-mail: reservations.cl.helsinki@choice.fi.